Commercial Pest Control Las Vegas
Commercial Pest Control Las Vegas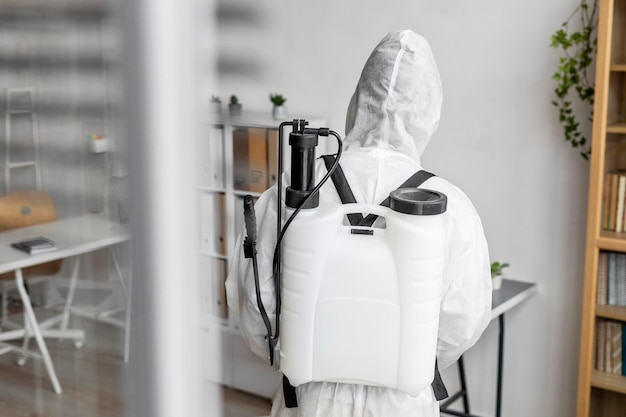 Pests such as rodents and insects pose serious threats to the wellbeing of any business enterprise. Rodents can spread dangerous diseases through contact or consumption of contaminated food or water sources; they also have access to electrical wiring which may present additional hazards. Insects can contaminate food supplies while multiplying at an alarming rate if left unchecked. With these dangers in mind, effective pest management solutions become even more essential for those operating within this vibrant desert metropolis.
Las Vegas offers countless options when selecting a professional commercial pest control service provider. It is essential that research be conducted into the various companies available so that informed decisions on how best to protect one's property from potential infestation can be made accordingly. 
Understand Your Individual Pest Treatment Needs
When looking for commercial pest control in Las Vegas, it is essential to understand your individual needs. Nevada Pest Control Experts can assess the severity of any existing pest issues and provide a solution tailored to fit the unique situation. Unwanted pests can cause significant damage to a commercial property if left unchecked, so making sure that all types of pests are adequately addressed is important.
The type of service required will depend on the size and scope of the problem as well as any potential risks associated with certain kinds of infestations. It may be necessary to employ multiple forms of pest control depending on what kind of invader has been identified. In such cases, a professional pest control service should be consulted for best results.
Depending on the specific nature of an issue, additional steps may need to be taken beyond regular extermination treatments. This could include removing or treating conducive conditions like water leaks or cluttered areas which might attract more pests in the future. Keeping up with proper maintenance around your business is key when ensuring long-term protection against unwanted intruders.
Protecting Your Safety, Health & Peace Of Mind
Pest control is an essential service for commercial businesses. A reliable and knowledgeable commercial pest control company can provide the necessary preventive pest control services to help ensure a safe, healthy, and stress-free workplace environment. Such services include bed bug control, termite inspections, rodent management, as well as prevention of other pests such as ants and cockroaches.
The safety, health and peace of mind of employees are top priorities for any commercial business. By partnering with a qualified and experienced commercial pest control team like those in Las Vegas, companies can rest assured that their working space will be free from pests. The teams have the expertise to identify potential sources of infestation while using effective techniques to eradicate existing ones. In addition they offer customized solutions tailored to meet individual needs – ensuring maximum effectiveness at minimal cost.
When it comes to protecting your work environment against unwanted visitors, choosing a reputable commercial pest control provider is key. Nevada Pest Control Experts  is the perfect solution to your problem!  With quality assurance measures in place, you can be sure that all treatments used are environmentally friendly yet highly efficient in eliminating current or future threats posed by pests. From comprehensive inspection reports to follow up visits post treatment – investing in the right kind of professional support is invaluable when it comes to safeguarding your premises against invaders without compromising on customer satisfaction or employee well being. Transitioning into 'what kind of pest is pestering you?', it's important to know what type of pest is causing issues before deciding on which action steps should be taken next.
What Kind Of Pest Is Pestering You?
Pests often lurk in the shadows, but their presence can create a significant disruption to our lives. It's like an unwelcome guest that never leaves, and it takes determined action to evict them from your home or business. That's why having a knowledgeable pest control technician is essential for getting rid of these pests. Commercial pest control services are available for Las Vegas businesses that require year round protection against infestations of cockroaches, ants, mice and other rodents as well as bed bug treatments and removal.
The experienced technicians at commercial pest control companies understand how difficult it can be to keep pests away and provide clients with quality service designed to meet their specific needs. They will develop a customized plan tailored to the client's budget while ensuring they have access to the most up-to-date products and technologies on the market. A thorough inspection by one of these professionals allows them to identify current problems and potential future issues that could cause long term damage if left untreated. Clients can then rest assured knowing they have taken steps towards protecting their safety, health and peace of mind with a comprehensive pest control plan today.
Whether you're dealing with general household pests such as fleas, spiders or flies; or more serious invaders such as rats, termites or bed bugs – there is no need worry about an uninvited houseguest any longer when you enlist the help of commercial services unrivaled pest management solutions.
Frequently Asked Questions
Pest control services help to protect commercial properties from damage caused by pests. In the Las Vegas area, it is important to understand the most common pests in order to develop an effective pest prevention plan. Termites are one of the most destructive and costly pests, making it essential for businesses to have a reliable termite control service plan in place. Regularly scheduled inspections and treatments can prevent long-term damage from occurring on commercial properties.
The cost of pest control services varies depending on the size of the property and type of treatment needed. However, investing in regular care can be beneficial for any business owner looking to preserve their investments over time. Just as preventive maintenance helps keep cars running smoothly, taking proactive measures against pests is essential for protecting buildings from significant damage that could be expensive to repair or replace.
Dealing with pest problems quickly is like putting out fires before they start; being prepared and vigilant helps ensure that potential issues do not become costly disasters down the line. Protecting a commercial property from pests takes commitment but offers peace of mind knowing that investments remain secure and safe from infestation. Taking steps towards keeping a building free from unwanted guests is like having an invisible shield around your property – always ready when you need it most.
Don't Hesitate To
Question Us

Any Time